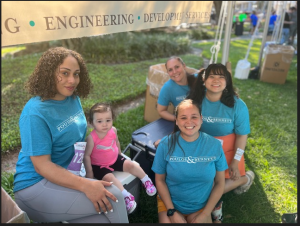 On Thursday, May 4th, the force was strong in downtown Orlando. As people celebrated Star Wars Day, the business community gathered around Lake Eola for the Simply IOA Corporate 5K presented by Key HR. Over 11,000 participants ran, walked, and smiled through the brick streets of Orlando with fans cheering and encouraging them all the way.
The Corporate 5K is now a tradition for the P&B team and this year was no exception. Everyone gathered at the P&B tent with race numbers on and adrenaline pumping! We even had the privilege of spending time with some little P&B members on a beautiful night in the city!
Our fearless leaders joined the group of CEOs at the front of the pack, and everyone lined up for the event. After running and walking, the whole group gathered for sandwiches, fruit, and an ice-cold beverage!